News feeds are glowing this week with the admiration and celebration toward Tiger Woods on the well-earned win in the 2019 Masters Tournament. Pundits are peeking into the future and prognosticating the likelihood of him winning the 3 remaining major competitions to match or possibly succeed Jack Nicklaus for the all-time PGA major win record. There are discussions ranging from his amazing return despite several injuries to the personal obstacles he overcame in the process. But what did Tiger really win other than an unfashionable green coat, a miniature clubhouse trophy, 2 million dollar purse and bragging rights as the second oldest winner of the prestigious event? Here are four intangible life proceeds this remarkable athlete carries every day of his life.
Outlived His Critics
In 2009, Tiger Woods had achieved greatness in the game of golf but had lost at the game of life. A sex scandal destroyed his reputation, dissolved his marriage, cost him millions alimony, several endorsements, stymied his career and brought this champion's world to a halt. No one was worried about his financial stability, though plenty of people had comments on that. What preoccupied the public dialogue was this larger than life young man who seemingly had it all together and a model of character had failed epically before a global audience. Some ridiculed, but many were simply concerned for him and asked: "How could this happen?". It is conceivable that at the moment of exposure, Tiger would have surrendered all of his nearly 1 billion dollars in assets for 1 ounce of public dignity.
The path proved difficult and was not without its setbacks. The recovery of his character took time. While the stigma of the 2009 scandal has long since waned, the victory at Augusta solidified a long-awaited reward for the effort and consistency he has proven in his recovery. Many panned and criticized the situation as unrecoverable in many respects. However, Tiger was undaunted in His determination to restore not only his golfing prowess but his character as well.
Embraced Life Lessons
Amidst the recovery from professional and personal failure, Tiger took significant steps toward restoration and revealed the true nature of his character. He owned his mistakes, sought to make restitution, submitted himself to recovery, and got the help he needed. He did this for himself and the future, not for the sake of the game he loved. After 9 months of recovery, he emerged from the shadows to do what he loved once more. He returned to the game of golf with a new perspective.
The win this past weekend serves as a supreme example of patience and endurance. It was also an intangible triumph of character in the demonstration of humility. No one would have blamed him for hiding in the shadows, taking his money and retiring to a beach in Florida to escape public criticism.  He didn't hide. He didn't shirk his objectives and stayed the course for 11 years to taste the thrill of victory with a side of humble pie.
Demonstrated & Received Love
If you witnessed his 1997 Masters victory, you may remember the iconic image of Tiger embracing his late father immediately afterward. It was a moment to be cherished. Twenty-two years later, the latest iconic win will likely be remembered with Tiger embracing his own son immediately after the win at Augusta National. The ability to keep perspective on what is most important and knowing for whom he does what he does is another win for the champion. Golf is obviously important to Tiger, but in the 1 stroke win, he demonstrated that being a champion is not about winning the game, it is about how you win and for whom.
There are many losses in Tiger's history. In each adverse situation, there were people in his life who believed he was a champion long before he ever achieved it. There were also those who walked away and gave up on him professionally and personally. His failures were significant and painful.  Yet, there were those who chose to believe in him even after his multiple failures. How he endured the loss, the shame and failure personally and morally mattered. How he persevered through losing every major golfing event in the last 11 years was just as much a key to his winning strategy as his performance this past week. Because winning or losing on the golf course has no bearing when you are being loved and loving those who stick by you through times of failure.
Overcame Pain
In addition to a sex scandal that cost his public image and the personal pain of divorce, Mr. Woods endured four back surgeries that had him bedridden for significant periods of time and left him unable to train and play in major tournaments for more than 2 years. Many speculated that he may never play the game competitively again.
The combined emotional and physical pain he endured to come back to this type of win demonstrates a type of grit and greatness that embodies a true champion. What Tiger Woods won in this was not merely the admiration of golf fans across the world, but he won a personal victory in resilience and serves as the inspiration to the rest of us to get out of bed, own the struggle, do our work, and endure to the end to experience the victory that comes through pressing on through adversity in order to learn and grow from it.
So, here is to a champion of life. May you experience many more victories on and off the course. Thank you, Tiger, for modeling what you really win when you are a champion. Finish the course well. May we all do likewise.
Summary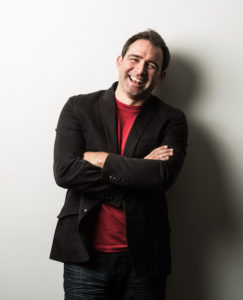 We can all learn lessons from a champion. They can be the catalyst toward our present and future success. If you see patterns that you wish you improve in your leadership or team, our ShiftAgent coaching program or one of our seminars may be right for you. We are here for you, contact us and we will be glad to assist.